LAM signs Commercial Agreement with TAAG
LAM – Mozambique Airlines and TAAG – Angolan Airlines signed in Luanda on 12 November, a commercial agreement, known as an SPA (Special Prorate Agreement – Passenger) which seeks to establish connection facilities at accessible prices for the passengers of the two companies.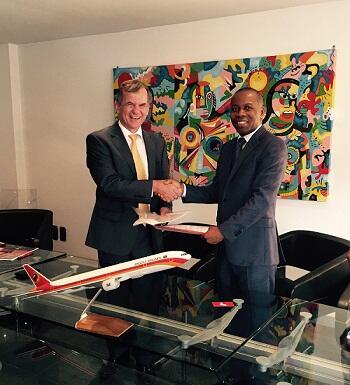 The agreement which forms part of the implementation of the LAM Strategic Plan, allows, for example, passengers starting their journey in Maputo to acquire their tickets on a LAM flight to Luanda and then, for the same price, choosing between returning to Maputo on a direct flight, or via Johannesburg on a TAAG flight, and then from Johannesburg to Maputo on a LAM flight. It allows that, for a single and accessible price, a passenger starting from Maputo can acquire a LAM ticket and fly on LAM to Luanda and then make connections with the TAAG flights to destinations within Angola or outside of Angolan territory.
It also means that LAM now offers daily flights to Luanda. Two of these are direct flights, and on the other days of the week the flights are via Johannesburg, with TAAG as the transporting company, without any additional cost for the passenger.
Under this agreement, LAM passengers with intercontinental destinations (Lisbon, Porto, Havana, São Paulo, Rio de Janeiro), Angolan domestic destinations (Lubango, Malanje, Cabinda, Catumbela, Huambo, Saurimo, Soyo, Ondjiva, Menongue and Luena), as well as regional destinations (São Tomé and Príncipe, Lusaka, Brazzaville, Bangui, Douala and Praia) will be able to make connections from Luanda.
Passengers starting their journey in Luanda will be able to make connections from Maputo, on flights operated by LAM to Nampula, Nacala, Pemba, Tete, Quelimane, Inhambane, Vilankulo and from Johannesburg to Maputo, Beira, Vilankulo, Inhambane, Pemba, Tete and Nampula.